THE LIBERAL LIE CARTOON GALLERY AND YoU cAn'T mAkE tHiS sTuFf Up
Obamacare

- big government, medical control, trillions added to the Obama made deficit, tax increases, destruction of the best health care system in the world. Yep just what Dr. Obama ordered.
YoU

cAn'T

mAkE

tHiS

sTuFf

Up -

KIRKWOOD

, N.Y. — State police say two

Pennsylvanian

men robbed an upstate New York gas station and might have gotten away if they'd remembered to do one thing — fuel up. Troopers caught 29-year-old Lonnie

Meckwood

of

Carbondale

and 50-year-old Phillip Weeks of

Tunkannock

after their getaway car ran out of gas while the were trying to escape late Monday night.

They're accused of using a knife to rob a clerk at the

Quickway

Convenience Store in

Kirkwood

, 80 miles south of Syracuse near the New York-

Pennsylvania

border. The clerk wasn't hurt. Police found the pair about a mile away. Their car was on the side of the road.
It takes an idiot to rob a store and these two morons proved it ! -
YoU

cAn'T

mAkE

tHiS

sTuFf

Up
Cap and Trade better know as ,"Crap and Tax." Taking the ship of state and the American people full steam ahead into a financial ship wreck. Typical Obama policy, let's hope the Senate has enough sense to scrap this debacle.
YoU

cAn'T

mAkE

tHiS

sTuFf

Up - ZURICH — It must rank among the easiest fires ever to put out. Zurich authorities say police and

firefighters

were called to the house of a woman early Thursday after she reported her television set was burning.

When they arrived, they discovered no signs of fire or smoke. They found instead that the TV was tuned into a German station that in the early morning hours aired the constant image of a fireplace. "The fire was

extinguished

with the press of a button," police said in a statement.
Also available on DVD. Just call 1-800- fire n TV, for your very own set burning experience ! -
YoU

cAn'T

mAkE

tHiS

sTuFf

Up
A job well done by our marvelous troops. Thank you to our best and bravest for VICTORY in Iraq. Thank you to President Bush for his strength as Commander in Chief and also for a job well done. To those including the current

CIC

who said this war was lost, take a look at what victory is and know that President Bush and our fantastic troops provided it !
YoU

cAn'T

mAkE

tHiS

sTuFf

Up - KALAMAZOO, Mich. — Western Michigan University student William K. Bradley has been sentenced for larceny in a building. He stole a computer. From the Kalamazoo County jail.
Where he already was serving a sentence in a different case.

Kalamazoo County Circuit Judge Gary

Giguere

Jr. sentenced Bradley on Monday, telling the Kalamazoo resident his jailhouse theft was "the dumbest crime I've heard today" and "may be in the top half-dozen in my career." Bradley, who has racked up six felonies and four

misdemeanors

by the age of 25, agreed with the judge, saying, "I'm not the best criminal." Bradley asked for home arrest, but

Giguere

instead ordered him back to jail for six months.
Being a criminal is already dumb, but this yo yo has got to be the dumbest of them all ! -
YoU

cAn'T

mAkE

tHiS

sTuFf

Up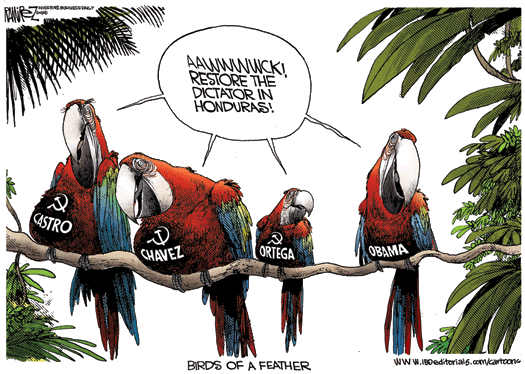 Honduran President Manuel

Zelaya

defies the courts and the

Constitution

to try and force a referendum allowing him to be President for life, like his buddy and soul mate Hugo Chavez who helped him by printing the ballots since the illegal vote was not allowed by the courts. By court order the military arrests Manuel

Zelaya

sending him into exile and what does Barack Obama do ? Calls for the return of the would be dictator in defiance of the Honduran courts and

Constitution

. So does Chavez, Raul Castro and Daniel Ortega. Like the

toon

says, "Birds of a feather !"
Ken Taylor