THANK YOU JIM DEMINT - TIM SCOTT FOR SENATE
South Carolina Senator Jim DeMint has announced he is leaving the Senate to take over as head of the Conservative think tank The Heritage Foundation. One cannot blame DeMint for leaving Congress where conservatives are demonized and going where a conservative is appreciated. DeMint many times in his years in the Senate has been the only true conservative voice on many issues. It has been an honor to have DeMint as our Senator in South Carolina and he will be missed. Many within my state, myself included consider him our ONLY Senator since Lindsay Graham has betrayed the conservative values he was elected on more times than not in the last several years. We in this state elected BOTH Senators based on true conservative values and policies and ONLY DeMint has lived up to voter expectations and beliefs. Thank you Senator DeMint.
Now South Carolina Governor Nikki Haley has a decision to make. With DeMint leaving the Senate before his term is over in 2016 a void will be left that is extremely hard to fill and it will be the responsibility of our Governor to appoint someone to finish DeMint's term and represent South Carolina and possibly run for reelection in 2016.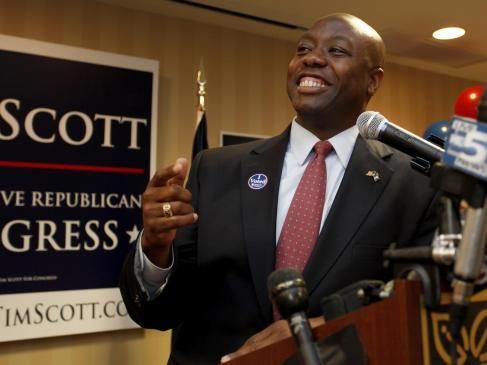 As a South Carolina conservative I am taking this opportunity to second the suggestion by fellow South Carolina Blogger,
Mike's America
, and urge Governor Haley to appoint a true conservative who will continue real conservative representation and fight for conservative beliefs and issues as Jim DeMint has since the day he took office. South Carolina District 1 Congressmen Tim Scott will be that representative.
Scott is beginning his second term representing the first South Carolina District in the House of Representatives. He easily won reelection on November 6 and has been a staunch conservative voice for our state. I had the honor of voting for Scott in his first term but was unable to for his second as South Carolina has grown and the County I live in was apportioned into a new Seventh South Carolina Congressional District and as such elected a new member in Congress with Scott's first District moving South of my area.
While I am proud of our new Representative Tom Rice, I was saddened to lose Tim Scott as my Representative. Scott has been a steadfast voice for conservative values and policy since taking office and has echoed the stance of Jim DeMint on every issue. Scott would step into the responsibilities in the Senate filling the void left by DeMint completely following the true conservative values DeMint has represented throughout his career.
I urge Governor Haley to look no further that Tim Scott as she considers the replacement for Senator DeMint. Scott will represent our State and our Nation standing firm on Constitutional and conservative values and seeking both at every turn in The United States Senate.
TIM SCOTT FOR SENATE!
Ken Taylor