NIKKI HALEY, JIM DEMINT AND TIM SCOTT BIG WINNERS IN SOUTH CAROLINA PRIMARY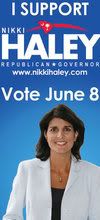 Beating the South Carolina, "Good Ole Boy," network that tried to drag her through the mud during the final weeks of the campaign before the June 8 GOP primary, conservative Nikki Haley took 49% of the vote in a four person race for the GOP nod as Governor. Second went to Congressman Gresham Barrett who garnered only 22% of the vote but will face Haley in a June 22 run off. Fox News is reporting though that there is word that Barrett may drop out of the race to avoid the run off. The SC GOP Governors Association is calling for Barrett to drop out.
In another surprise race, conservative state legislator Tim Scott took 32% of the vote in a nine person race beating the son of Strom Thurman, Paul Thurman who came in second with only 16% and Carroll Campbell Jr. son of the former Governor who took only 14%. Scott will face Thurman on June 22 in a run off to replace Congressman Henry Brown who is retiring as the Representative of South Carolina House District 1, my district and home.
In another win for South Carolina conservatism Senator Jim DeMint won a landslide decision against a primary challenge for his United States Senate seat. DeMint will face a Democrat challenger in November who has no chance of winning against the staunch conservative who has earned the respect of not only the people of South Carolina but of the entire Nation as he has stood steadfast on a Constitutional basis against Obama's agenda.
In the Governors race Nikki Haley's Democrat challenger in November received 90,000 votes less in his primary in a two candidate race than Haley received in a four candidate race. Nikki Haley will be the next Governor of South Carolina and Tim Scott the next Congressman for House District 1. All in all a great night for conservatives in South Carolina. All three candidates, Haley, DeMint and Scott have earned my vote both in the primary, in the run off and the general election in November.
Ken Taylor