OBAMA CONTINUES TO BOW BEFORE THE WORLD
Once again, Barack Obama belittles the Presidency and bows to a world leader. In fact this bow is a repeat to not only a previous bow recipient but to a Communist leader, the Premier of Communist China. Obama's bowS are not a sign of respect as his spin masters continually try to portray but a clear showing that this inexperienced and inept politician has no business on the world stage representing the American people who bow to no one.
In 1936 during the Olympic Games which were held in Germany during Adolph Hitler's reign, as the opening ceremonies took place every country dipped its flag as they passed Hitler's podium in the viewing stand. Every country that is except The United States. The Stars and Stripes flew high and proud before the world and many deemed it an insult to Hitler. Both then and now our flag dips to no one or at anytime. Yet this President dips to every two bit world leader as a subservient.
Between this and his weak and aimless foreign policy it is no wonder that Nations throughout the world are losing faith in our country and respect for ability to stand strong as we have throughout our history. Obama displays weakness to the dismay of our allies, the joy of our enemies and as a danger for the security of the American people.
During the opening pressers of Obama's useless Nuclear Summit he bows before the Chinese Premier
During his last world tour Obama made his first bow to the Chinese Premier


During his visit to Japan, Obama bows before the Japanese Emperor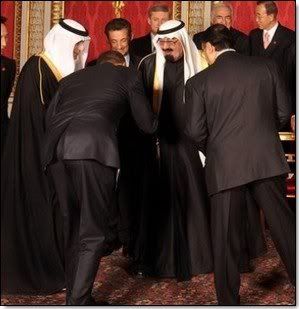 The first embarrassing bow before the King of Saudi Arabia


Ken Taylor