OBAMA FAILINGS BRING A YEARNING FOR BUSH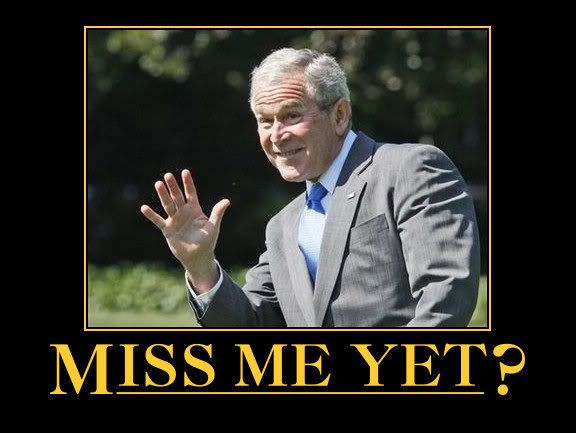 When George W. Bush left office his approval ratings were at 34% according the the last Gallup Poll taken of his Presidency. With Barack Obama's approval rating now setting a new low for the modern Presidency at this point in an administration, a new poll has garnered a surprising result.
44% of Americans according to the poll now prefer George W. Bush to Barack Obama as President of The United States. As Obama's numbers are crashing in conjunction with his failing Presidency and the utter turmoil that he has wreaked in Washington, Americans are finally understanding that Bush was a significantly better President than the media portrayed him in their attempt to destroy the Bush Presidency.
Americans are also placing the blame where it rightfully belongs for our massive spending and deficits which have tripled since Obama took office. Obama continually claims that the spending and deficit problems were inherited from Bush but when the final Bush deficit is compared to the current Obama deficit, it is obvious that Obama has exploded the debt, increased the deficit 3 times more than Bush and sent spending through the roof.
It is a shame that George Bush was not appreciated until after he left office, but in light of the mess that Obama has placed our Nation in it is also a welcome change to see that Bush is finally being appreciated by the people who he protected and defended so well during his eight years as President.
Ken Taylor