BARACK OBAMA SHOWN IN TRUTH BY JON McNAUGHTON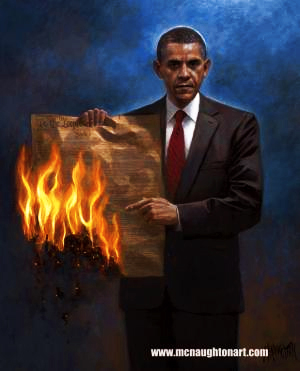 He has painted what the left call controversial paintings but what he depicts on canvas show the eye of a patriot and one who understands what is happening to out beloved country.
Jon McNaughton
, (click on his name to visit his website), has painted some tremendously thought provoking paintings that tell the story of the decline of our Nation.
Familiar renderings from this excellent artist include, The
Forgotten Man
,
Wake Up America
,
Peace Is Coming
and
One Nation Under God
, all of which depict a powerful, meaningful message that brings home the issues and troubles that face our Nation and the dangers that our country faces as government takes us further from the vision of our Founders.
The picture to the left is his most recent which depicts Barack Obama burning the Constitution a clear reference to the message we conservatives have been telling the Nation since well before the Constitutional usurper took office. Obama has trampled and spit upon our Constitution since taking office and continues to do so with an agenda and policy that would disgust the Framers of our founding document and the brave men and women who have given their lives defending the Constitution since our country adopted it in 1787.
Many consider Mr. McNaughton's portrait of Obama with a buring Constitution controversial but the reality is that this brilliant artist has shown in an inspired painting why Obama must be defeated this fall and what will continue if he is allowed by reelection to remain in the office he currently holds. Obama has no respect for our Constitution and has said as much when he stated in a 2002 interview that it was a flawed document because it did not say what the government must do for citizens and only stated what the government could not do. He does not grasp the fact that the Constitution was written to protect the people FROM an all powerful government and that we the people loan power to the government in which we have full authority over.
Thank Mr. McNaughton for yet another brilliant portrait and your patriotism. Thank you for taking a stand for freedom and the restoration of our beloved Republic to its Constitutional principles and beliefs. Be sure to follow the links above to his website and support this American patriot!
Ken Taylor