BARACK OBAMA BIRTH CERTIFICATE APPEARS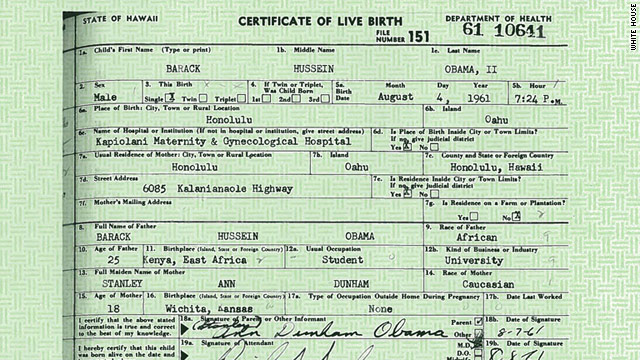 I have not been one caught up in what has been known as the, "birther," movement. After Obama was elected it almost became a moot point since as President everything he has done since taking office would be null and void if it were proved that he was never eligible for the Presidency. The ramifications of that alone convinced me that nothing would come of any move to remove Obama from office because of his not being Constitutionally eligible.
This does not mean that it was not a viable issue but the problems it would cause especially after two and a half years kept it from being an issue that would end in his removal. Had the questions of his birth and citizenship been allowed to be fully vetted BEFORE he took office it might have prevented his being President.
Now after more than three years Obama finally releases his long form birth certificate claiming the reason for the delay was because of a waiver needed for the release. If that was all that was required why then did he not do this three years ago and why has he spent millions in attorney fees to keep it secret? Obama created the controversy because of his willingness to keep this long form secret.
Although it does show he was born in Hawaii a position I have never really doubted it will not put to rest questions about the citizenship of his father at the time of his birth and the fact that his mother who was 18 fell below the legal age for him to become a citizen by birth because of her United States citizenship. At the time the legal age for that was 21 as it was when Chester A. Arthur the 21st President was born. Decades after he left office records came to light questioning whether he was a natural born citizen or a naturalized citizen because his father was a British citizen at the time of his birth.
I am sure those questions even with the release of this birth certificate will still be asked of Barack Obama. The bottom line here is that the birth certificate controversy will never rest nor will it be the cause of Obama's removal from office as some have hoped for. I will give Donald Trump credit for getting a reaction from Obama as he has over this issue. Obama has called it a carnival side show but Trump, who I still believe is an opportunist who supports liberal candidates and causes as much as conservative causes, Trump did get something released that law suits and controversy have not been able to do for more than three years.
There will still be many who will force this as an issue and it will not go away simply because of the release of the long form certificate. But as I mentioned at the beginning of this post it is a moot point since he took office and now even more so since this has been released. While there may still be questions about his natural born citizenship, this issue is virtually a dead horse.
Ken Taylor