YES, CNN CHICAGO IS OUT - BY RADENA
It was such a shock CNN Couldn't believe it:
"
Wait a minute. Chicago is out? OUT?
"Yeah, buddy. Chicago is out and we know how badly all of Obama's cronies wanted the games held in Chicago. What a crying shame. I'm so torn up over this I'm crying in my beer. Okay, so I don't drink beer but that's beside the point. Instead of going to Copenhagen he could have been doing something important like figuring out how to deal with Iran. That is, if he even wants to deal with Iran. That's anyone's guess.
Do you suppose this is a blow to Obama's ego? I mean, he's the chosen one and should be able to get anything he wants right? Must be a real shock even though I heard him say during a speech on this great and tragic loss
"...so that I wish that we had come back with better news from Copenhagen, I could not be prouder of my home town of Chicago...
and on and on, while most of the time smiling from ear to ear.

Do you think he was smiling about this turn of events in private?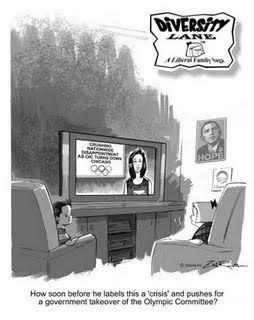 RaDena -
Blasting Caps And Dynamite