SEPTEMBER 11, A DAY OF REMEMBRANCE NOT A,"DAY OF SERVICE"
Barack Obama has decided that today September 11, 2009 is to be a , "Day of Service," for citizens to volunteer somewhere as a service to the memory of 9/11. According to the idea rather than remembering the murderous actions by evil of that day, we as Americans are to work in service to one another.
So we here at The Liberal Lie, The Conservative Truth are offering this site as a service to Americans. Today we are volunteering this site to remember that on September 11, 2001 evil in the form of Islamic radicals under the direction of Usama bin Laden leader of Al Qaeda, willfully, cowardly and unprovoked, attacked our Nation killing innocent men, women and children. Many today believe that The United States is the evil and that terrorism like that which took place eight years ago is nothing more than a crime. WRONG! We did nothing to deserve or provoke this murderous act of war. Evil fanatics who despise all that we stand for killed our fellow Americans and others who did not deserve to die that day and watering down what happened does not change this fact!
So
RaDena
and I offer in the spirit of a volunteer the following service for September 11, 2009
Using jet planes filled with fuel and innocent Americans Al Qaeda terrorists declared war on The United States.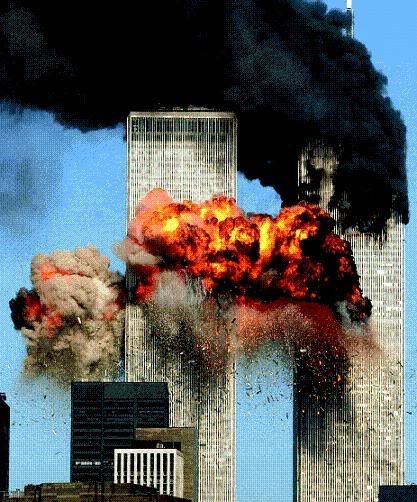 After massive explosions and fires destroyed the integrity of The World Trade Center buildings, both collapsed taking with them nearly 3000 innocents including firefighters and police who thought not of themsleves but only in rescuing those trapped in the inferno.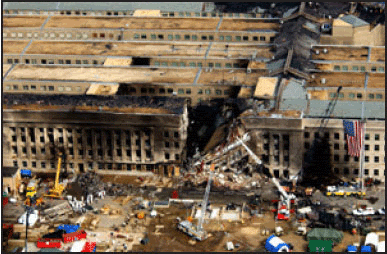 The cowardly attacks also hit the Pentagon killing 184 in the building. 40 Brave Americans aboard American Airlines Flight 93 took matters into their own hands and wrestled the plane from the Al Qaeda murderers saving the US Capitol Building, the intended target, but crashing in a field in Shanksville, PA killing all on board.
No matter how this administration seeks to make this day less of a remembrance and more a, "day of service," we must NEVER forget why we fight. That evil willingly attacked us on that day killing thousands of innocent men, women and children. We must always remember and always remind ourselves of the tragedy of that day and the triumph of the American spirit which prevails above all. God bless the memory of those who perished. God bless those who survived. God bless those that have given their all in defense of freedom and who sacrifice daily still defending freedom. And as always God bless America!
Ken Taylor
RaDena's tribute
A Tribute to Stephen Patrick

Driscoll

and All the Victim's of 9/11
This wonderful man, Stephen Patrick
Driscoll
, had a dream for his parents and with determination he made it happen. The following story comes
from here
.
When his parents' Bronx neighborhood began to change for the worse, Stephen Patrick
Driscoll
decided to help them realize their dream of owning a house near a lake. "He was so anxious to get them moved out of their neighborhood," said Gail
Silke
, Mr.
Driscoll's
sister, who helped manage the renovations at their parents' new home in Carmel, N.Y. "His goal was to put them somewhere they always wanted to be."
For months, Mr.
Driscoll
wrangled with contractors and fussed over details to make sure the house, which sits beside Lake Carmel, was perfect. Every night after he left his job with the New York City Police Department's Emergency Services unit, Mr.
Driscoll
, 38, stopped by his parent's apartment and picked up a box of their belongings. He also secretly restored his 1987 Chevrolet Celebrity so his father would have something to drive once he moved to the suburbs.
On Oct. 13, Mr.
Driscoll's
parents finally moved into their three-bedroom ranch-style house. That night, Patrick J.
Driscoll
, Stephen's father, wrote a note for his son and taped it to the front door. It read "Stephen, we finally made it. Love, Mom and Dad."
"I just wanted to let him know that we were here," the elder Mr.
Driscoll
said. The next morning, the masking tape was still on the door. The note had disappeared.
What a wonderful son he was and my husband and I would have been proud to call him "son". I'm sure his parents are and I'm also certain that they miss him each and every day of their lives. Needless to say, on September 11, 2001, this wonderful man was murdered, along with 2,748 other souls who were simply going about their business.
While far too many Americans may seem to forgotten what we lost that day, Stephen's parents haven't forgotten, the loved ones of the victims haven't forgotten, and we haven't forgotten!
We know God has blessed you, Steven, and you know those left behind still remember you, cherish you, love you and honor you.
As long as we live,
WE WILL NOT FORGET
! As it says in the following video, "the world saw evil that day."
Ken Taylor and RaDena