THE LIBERAL LIE PICTURE GALLARY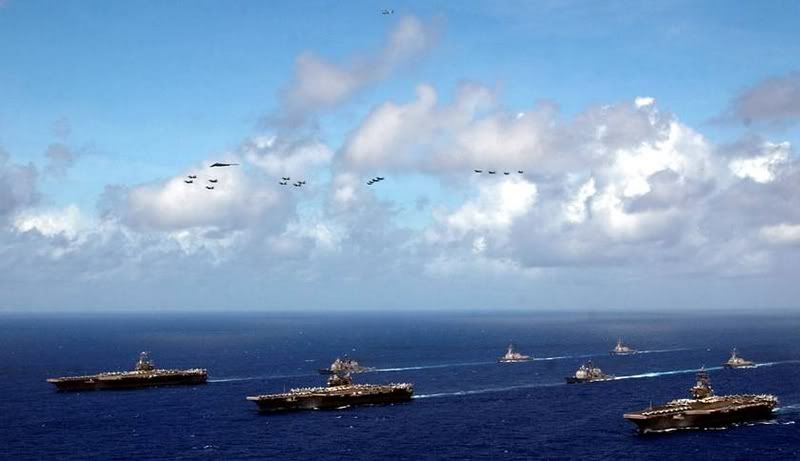 "Peace through strength, " - President Ronald Reagan. While there is much speculation as to why Iran released the 15 Brits
Newsmax

is reporting
that after much infighting the ruling Mullahs and military leaders decided that the addition of the Nimitz to the
Eisenhower
and the
Stennis
in the Persian Gulf was a prelude to an invasion of Iran by May first and that Iran better get while the getting is good. "Peace through strength!"
Hmmm
, when they ran for election to get the vote the
Dems
said, " No tax increases." Now that they are the majority and can force their liberal ways on We The people, the liberal agenda of spending our money is more than they can
resist
. $400 BILLION, (yes BILLION with a "B"), in proposed tax increases already and its only April of their first year as majority. How does the old saying go, " a leopard never changes its spots." A Democrat has never seen a tax increase they didn't like and this Congress is no exception!
Appeasement, appeasement, appeasement. The
Mantra
of the left and the demise of peace while allowing despots or in the case of Iran, terrorists to thrive. It didn't work with
Hitler
and it obviously is not
working
with Iran and
Ahmadinejad
. Give a terrorist an inch and they will take a mile, or a nuclear program, or a building or the Middle East then the world!
Target Iraq. The weapon - announced redeployment of American troops. The
source
of the weapon - the Democrat Majority in The United States Congress. The end result - Iraq in the hands of Iran and Al
Qaeda
, a terrorist state dominating the Middle East and the security of the United States in grave danger. The Democrat plan for defeat!
Ken Taylor