ARES 1 X LIFTS OFF WITHOUT A HITCH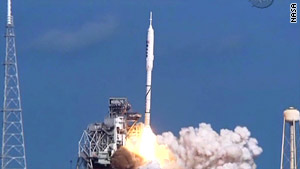 The next generation of launch vehicle which will once again return man into space exploration, the Ares 1 X, successfully made its first test launch at 11:30 AM from Cape Canaveral. The largest rocket currently made and only slightly smaller than the massive Saturn V which launched all of the Apollo moon missions, the Ares is designed to make the next step in space exploration taking the successor of the Shuttles, the Orion, in to space with the eventual destination being a manned mission to Mars.
The Ares is designed to take the future Orion crew vehicle from earths orbit to finally once again take man's exploration of space beyond our own planet which has been the missions of the Shuttle program since the end of the Apollo moon missions in the mid seventies. While the future manned flights are not to take place until well after the retirement of the Shuttle fleet in 2013, the successful launch of the Ares today signals the new beginning of man once again going where, "no man has gone before."
Ken Taylor